An office space isn't just an office space anymore. Not only are employee expectations demanding more from the working environment, but there is an increased focus on ensuring the office is able to promote positive wellbeing and employee happiness. So believe us when we say designing an office space today is no easy task. Office trends in 2020 are bringing with them a whole lot of innovation. From incorporating the latest technologies to investing in wellness designs, employers are showing commitment to meeting employee expectations and needs. Keep reading to find out what the biggest trends in 2020 have to offer.
Domesticated Workspaces
Soft throws, area rugs, furnished kitchens. No, you're not at home – this is a 2020 office trend expected to take off. Let's face it, we've all thought about how pleasant it would be to work at home surrounded by all of our favourite home comforts. Which is exactly the reason offices are bringing the domesticated vibe to the workplace. Employee's who feel comfortable and relaxed are much more productive and satisfied in their job. So creating a space that employees can feel excited by and that they want to go to is a win for everyone!
This domesticated trend has followed naturally from the hospitality industry, with hotels keen to attract more business travellers by offering a home-like environment. But we're excited to see this trend play out in offices this year!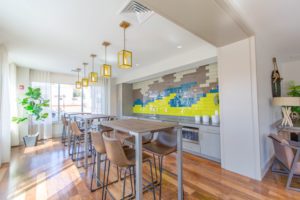 Horticulture Havens
It's pretty well accepted now that having more greenery in the office is excellent for reducing stress and increasing overall wellbeing. So it's no surprise that horticulture is featuring on our office trends for 2020 list. Maybe you've already seen a surge in greenery in your own office. But 2020 is the year for going full out. We're talking hanging baskets, living green walls and moss walls.
Office floor space is at a premium, so greenery is going vertical. Hanging horticulture is an especially clever way of incorporating plants into the workplace, blurring the line between business and leisure whilst also allowing for maximum use of floor, wall and ceiling space! Check out our own recent project where we installed a moss wall to promote World Mental Health Day.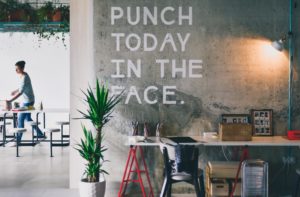 Sustainable Spaces
Offices in 2020 are going to continue to be shaped by ongoing issues. And the environment is one of those. With the tides turning on unsustainable practices in everyday life, it's no wonder that our offices are following suit. It shows a strong sense of corporate responsibility as well as increasing employee pride and satisfaction in their place of work.
At the core of it, a sustainable office will have an increased focus on recycling programmes, minimising waste and integrating sustainably sourced, green building materials. Advanced technology which focuses on energy conservation will also have an important role in future offices, as employers seek to minimise their carbon footprint.
Remote Working Communities
We've spoken about how remote working is only going to continue growing in the future in a previous blog. But how will this translate into the office? To accommodate the growing trend of remote workers, employers are reimagining the office space to encourage a community feel and collaborative environment. And this isn't simply a passing trend. It's now firmly on the employee list of preference and lifestyle needs.
But what kind of office space encourages remote workers to come into the office? Think bars, beer fridges, sofa areas, comfortable furniture, gaming rooms, fitness areas and showers! Offices are no longer a place of necessity. And office designs need to reflect this.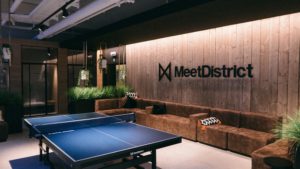 If you enjoyed this blog, why not check out our previous blog? Or get in touch to speak to one of our expert team members about your own office refurbishment.