As we near the end of 2019, it's time to start looking into what our future offices will look like. We've already seen huge changes in the structure of the office, with open-plan offices and collaborative spaces reigning supreme, but what can we expect from interior trends?
Sustainable and vegan fabrics
Sustainable fabrics are taking over in the retail sector, but you can expect to see such materials in abundance in future offices. We'd expect to be seeing less and less animal-based materials such as wool, and synthetic manmade materials, in favour of low-carbon, animal-friendly materials such as organic cotton, bamboo, recycled wood and repurposed plastics.
The architecture industry itself is becoming very eco-conscious and so naturally, interior design will follow suit. Sustainable fabrics seek to lower harmful emissions through transport and manufacturing, reducing energy consumption where possible, preserving animal life, eliminating single-use plastics, using more natural materials over man-made or synthetic materials as well recycling and repurposing where possible to avoid unnecessary waste.
So from floor and wall coverings to the fabrics on your chairs, we can expect future offices to get a whole lot more sustainable.
Informal settings
The workplace will soon depend on it's informal, social spaces to keep employees happy. As the years go by, we're more switched on than ever spending more time at the office. So to cater to the needs of the workforce, the workplace setting has to change too. Workcafes, games rooms, wellbeing zones, modernised kitchen areas, gym facilities, you name it, future offices will have it.
The ideal social space incorporates a mixture of materials, textures and patterns, comfortable seating, natural light and enough space to allow people to feel comfortable in a clutter-free environment. It's also useful to include any tools employees need to collaborate e.g. power sockets!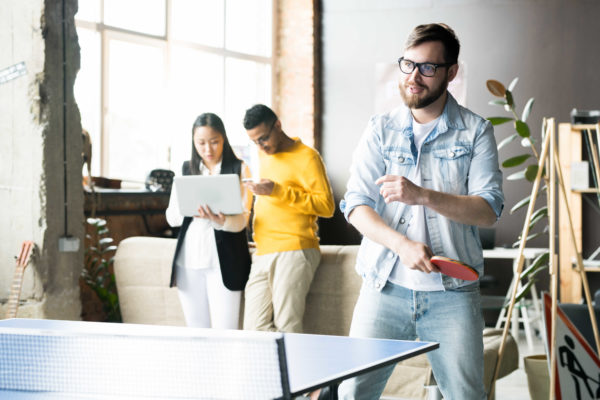 Colour contrasts and clashing
When it comes to interior design, future offices are headed towards colour clashing and contrasting FF&E items. In particular, we'd expect to see colours found in nature being bought into the office to create a biophilic space. Such colour palettes have been shown to increase employee wellbeing and decrease absentees, demonstrating how mimicking nature can have a profound effect on our mental states. Considering that 63% of us work in urban settings such as cities and towns, it makes sense to bring in colour schemes which can strengthen our connection with nature.
Colour blocking can, of course, be tailored to your preference, being included as much or as little as deemed necessary.
Greater flexibility
The future of the workforce is nomadic.  They're agile, flexible and committed to working no matter where they need to be. The Millennial workforce, therefore, require an office that is adaptable to suit their preferred work style.
We're talking furniture which can be easily moved around in a space, a greater number of hot-desking spaces and collaborative spaces with easy access to technology points. With workers potentially returning back to the office after a stint of remote working, they may not take kindly to being stuffed back into a cubicle. So consider what this new age of workers would want from your space.
Check out our previous blog to find out how to best design an office for Millenials here, or get in contact if you have a new, renovating or relocating office project you'd like to discuss with us!