According to new research, office rents in London, predominantly Midtown, South Bank and the West End are predicted to rise in the first six months of 2020, providing there is no hard Brexit. 
Why are rents in London rising?
This rise in rents is said to be driven by lower vacancy levels across the city along with post-Brexit vote occupier demand. Office development has slowed or has been halted in the wake of Brexit uncertainty. Along with less office space as a whole, the take up space has seen record highs in recent months, July being the highest in two years, contributing to low vacancy. Businesses and investors are quickly securing office space before leaving the EU,  planning ahead of lease breaks and expiries. 
Along with political reason, the shift in workforce demographics may be playing a major part in increased London rent. The proportion of 'Gen Z's' and 'Millennials' in the workplace is dramatically increasing, driving the demand for new or Grade A refitted spaces. Take a look at Google HQ below for example (below), their vibrant, spontaneous and engaging environment attracts the greatest minds. Employers nowadays realise to attract and retain the best employees, they must offer a workspace that offers more than just a desk and computer.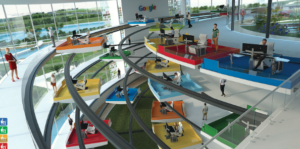 How high will rents rise? 
Rents in Midtown, South Bank, the West End, and City Fringe that are new or refitted grade A spaces are forecast to rise by an average of £2.50 per square foot over the next two years. Over the same period, areas such as Mayfair, Fitzrovia, Soho, King's Cross and Southwark, will see rent rises of £5 per square foot due to their acute low vacancy.
Second- hand London office space 
Whilst new and refitted space costs are on the rise, second hand space rents, in poorly located areas are predicted to fall sharply throughout and beyond 2019 and into 2020. 
Advice to occupiers 
Michael Pain, head of tenant representation at Carter Jones (UK estate agency) says,  'Occupiers that are considering a relocation to new or refitted office space, should be aware that the window of opportunity to secure competitive lease terms is narrowing given the likelihood that landlords will begin pushing up advertised rents in many parts of London next year as vacancy, and choice, declines.'
Occupancy cost disparity 
Construction of new grade-A developments have been setting new rent benchmarks. We have seen rises since 2018's second quarter, business rates, rent and service charge occupancy costs increased by more than 3% in Holborn, Farringdon, Mayfair and Canary Wharf. Meanwhile, over the same period of time, lots of other parts of the London office market have seen increases of far less than 1%.
Despite the increase, best values for new and re-fitted grade-A space in the City fringe sub-markets is in Stratford, with occupancy costs typically at £71.10 annually. Close behind is Canary wharf offering a slightly higher, yet close match in value at £84.50 per square foot annually. On the other hand, prices of up to £173.20 per square foot annually can be found in areas such as Mayfair and St James that are of equal space and quality. 
Those not currently based in Canary Wharf and Stratford have previously been known to shy away from and be highly resistant to such sub-markets. This is due to their remote, often awkward location. However, with the development of transport to these areas, there is much reevaluation and occupiers are now considering such business districts. This change in perception has even led the Canary Wharf Group to develop the 'Wood Wharf' project. The Woof Wharf is Canary Wharf's new district and has been designed to provide a new residential led, mixed use, waterside community.