London is home to some of the worlds most innovative and groundbreaking companies. It's only fitting, therefore, that it also houses office buildings of the same calibre. In the city, the working environment is just as inspirational as the leaders themselves, so we've chosen 3 inspiring London offices that may pique your interest. Let's go!
Google
Google's London 'landscraper' – famously titled as such due to being as long as a skyscraper is tall, boasts a rooftop garden with a running track, massage rooms, slides, gyms, sports venues and swimming pools. With enough space for over 4000 employees, the office is essentially a small town. What's there not to like?
But let's say you're not Google. Is there any need for such extravagance? Well actually, yes. The office culture at this inspiring London office promotes 'casual collision'. In other words, everything down to workspaces, leisure rooms and even the corridors are carefully created to stimulate social interaction from separate teams. Because where  Google is concerned, collaboration promotes creativity and drives production.
So if you're in the planning phases of an office refurbishment, why not take a leaf out of Google's book and promote collaboration between different departments through office layout and leisure areas.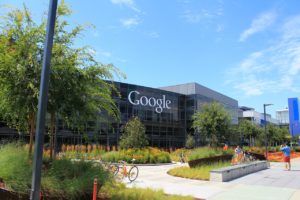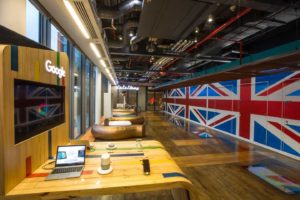 Lego
With Lego one of the world's most popular brands, it's no surprise their London office made it on to our list of inspiring workplaces. Similar to Google, the thinking behind Lego's office design comes down to one thing: collaboration. Once more, the idea of chance encounters which spark new ideas was carefully thought about during the design phase of their London expansion.
This is reflected in their flexible work zones with no fixed seating arrangement, dissolving the physicality of different departments. This gives employees to work in settings which support the task they're working on, which may differ from day-to-day.
But beyond office layout, there is, naturally, Lego bricks and Lego furniture in abundance. On one floor, is a space for focus groups which is filled with bricks and toys to the envy of all children everywhere. Yet the purpose behind such a room is to help those at work to understand the play state of children.
Ultimately if there's one thing to take from this building is to give innovation the best chance of success by designing an office which promotes cross-departmental collaboration, and which embodies your brand and allows your team to imagine themselves as your target audience. Because when work and imagination are integrated, unique results are to be expected!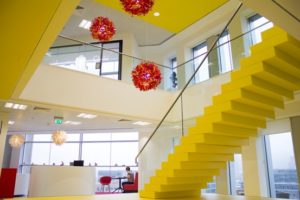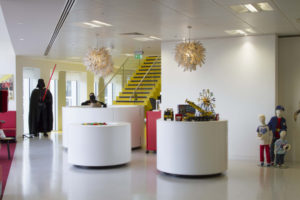 Innocent
Also known as Fruit Towers, Innocent's inspiring London office spans five floors of fake grass, park benches and bunting. Not to mention ping pong tables, a library and quirky decorations at every turn.
The main leisure zone resembles something like an English summer fete, whilst the kitchen is stocked with free avocados, bread, coffee and fruit. And of course, free Innocent drinks.
Food or fitness expert talks often accompany lunch breaks, with high profile guest speakers bought into the building. Otherwise, employees can take advantage of the onsite gym, yoga or pilates classes and employee-led sports teams.
With such impressive benefits and a fun, playful interior, it's no surprise that employee's love working at Fruit Towers, and the company has in fact seen a reduction in days off of over 10%, as well as far fewer sick days. So incorporating an essence of playfulness to create a space which your team loves, then you'll potentially have a more productive workforce who are excited by their work environment.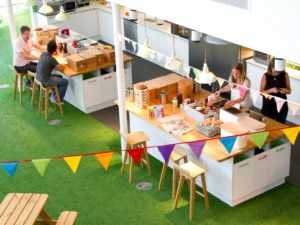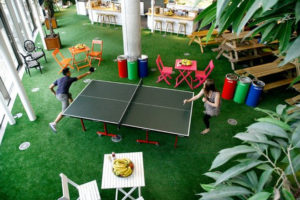 Conclusion
What do you think? Did any of these London offices give you some inspiration for your own office refurbishment? If so, don't hesitate to get in touch to get the ball rolling!